This simple Halloween kid craft project was my very first "crafty" post here at momnivore's dilemma.  Prior to that, the blog was my musings on autism and a few recipes sprinkled in here and there.
I kept my creativity under lock and key after I quit teaching, minus painting a few murals here and there. Then I discovered craft blogs and DIY blogs and link parties and suddenly I felt like a first year teacher all over again and was giddy and full of ideas at midnight.
So, as an anniversary of sorts,  I share with you: The Simple Ghost Pop.
Stay tuned for more Halloween crafts in the upcoming weeks.
We are talking some of epic, life-changing proportions.
Now, onto the Halloween Link Party.
Guidelines:
1.) MUST be Halloween-related: decor, recipes, vignettes, etc.
2.) Please link back with a text link or my Halloween button.
3.) Visit others.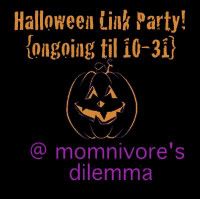 *This party will be open until 10-31!*