Hey all.  Hope your week is going great.  Don't forget in addition to Creative Juice Thursday, we have the Valentine's Link Party going on for the next 3 weeks as well.  Feel free to link to both if you wish.
There are over 50+Valentine's Projects already linked!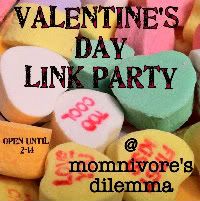 Here are the features from last week's party:
The guidelines remain the same:

*follow me if you'd like, because I don't host this party to gain followers.
I do it because I enjoy stealing ideas from you all. Kidding.
*link to actual post not general blog
*anything creative goes, as long as it's not a sales pitch!
*visit a few others
By joining this party, I can use your pics if you are featured.
I promise not to use your email in any spammy capacity.
Have any of you had issue with that lately???
I have.
Anyhow.
Time to share.
xoxo,
Nicolette