From my Halloween archives.  For those of your new to my site, this is one of my favorite projects I made for my children: seasonal/holiday word walls.  This one, in particular, is my favorite…
Although Moose is in special ed preK 5 days a week, I still make a huge point to homeschool with my boys.  We have a "circle" time each morning.
Concepts like holidays are still tough for Moose to grasp, so I decided to take this Halloween up a notch with a Halloween/fall word wall!  This project would be great for kids preschool through 5th grade.  The older kids can brainstorm ideas.  Younger kids would benefit from exposure to new words.
Children with autism are primarily visual learners, so I want Moose to really "get Halloween" this year. Hence, the word wall with picture cues. That's one of the tough parts of autism is holidays…
Monkey is talking up a storm, so this word wall will also build his prior knowledge and vocabulary.
Enough of the teacher talk.  Making a visually based word wall is important for all readers. I don't think it's enough to have "just the word" unless you are talking sight words, then different story.
But if your word wall focuses on nouns and verbs, why not include a picture?
I think having a themed word wall will break up the monotony of having the boys' favorite people, places, and things on our usual ABC word wall.
So here's what I used-
-two nails
-silver cord ribbon
-a pack of clothespins from the dollar store
-chip board letters ala Tar-jay dollar sections
-contact paper for durability
-various photos, clip art, magazine photos, old Halloween cards
1.) Choose a wall with at least five feet in length.
2.) Paint your clothespins and adhere letters.
3.) Brainstorm various concrete words associated with Halloween/autumn.
4.) Create ABC cards with photos, clip art, and WORDS attached.  This can be done in MS word or picmonkey's collage feature.
5.) Use ghetto lamination: clear contact paper on both side of the Halloween abc cards, so young kids won't rip your hard work!
Some extreme close-ups of a few of my favorites:
Sharing @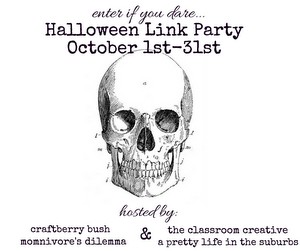 This post marks Day 11 of 31 for
Here are the other posts…