Click the button to be taken to the party: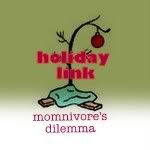 I had such a blast hosting the Halloween Link-up, so I wanted to do it again for the holidays.  To honor the love that is Thanksgiving, I will-not-mention-Christmas-until-the-turkey's-been-made-into-leftovers.
In honor of the best Christmas movie of all times Charlie Brown Christmas, I give to you, the blog button.  Party will be going up Black Friday.  Some of you that linked early to the Halloween bash had some killer traffic according to my stats.
So mark your calendars, ladies. Black Friday it begins.  I can't stand the mall madness, I get what I call the "mall sweats", so I'd rather shop in my sweat on amazon.
If it's in the realm of holidays, it works at this party!
 Be it: 
*homemade gifts 
*decor 
*crafts
*recipes
*whathaveyou
See you then…